Mabinogi World Wiki is brought to you by Coty C., 808idiotz, our other patrons, and contributors like you!!
Want to make the wiki better? Contribute towards getting larger projects done on our Patreon!
Blaze
From Mabinogi World Wiki
Description
| | |
| --- | --- |
| | Concentrates pure energy into your Magic Weapon and then fires it at an enemy. A strong physique is needed to physically throw the collected energy. Stunned enemies will lose balance and take major damage. Concentrate your MP while pressing a hotkey or the mouse button. You can switch targets while concentrating. Once you release it, your magical power will explode. |
Details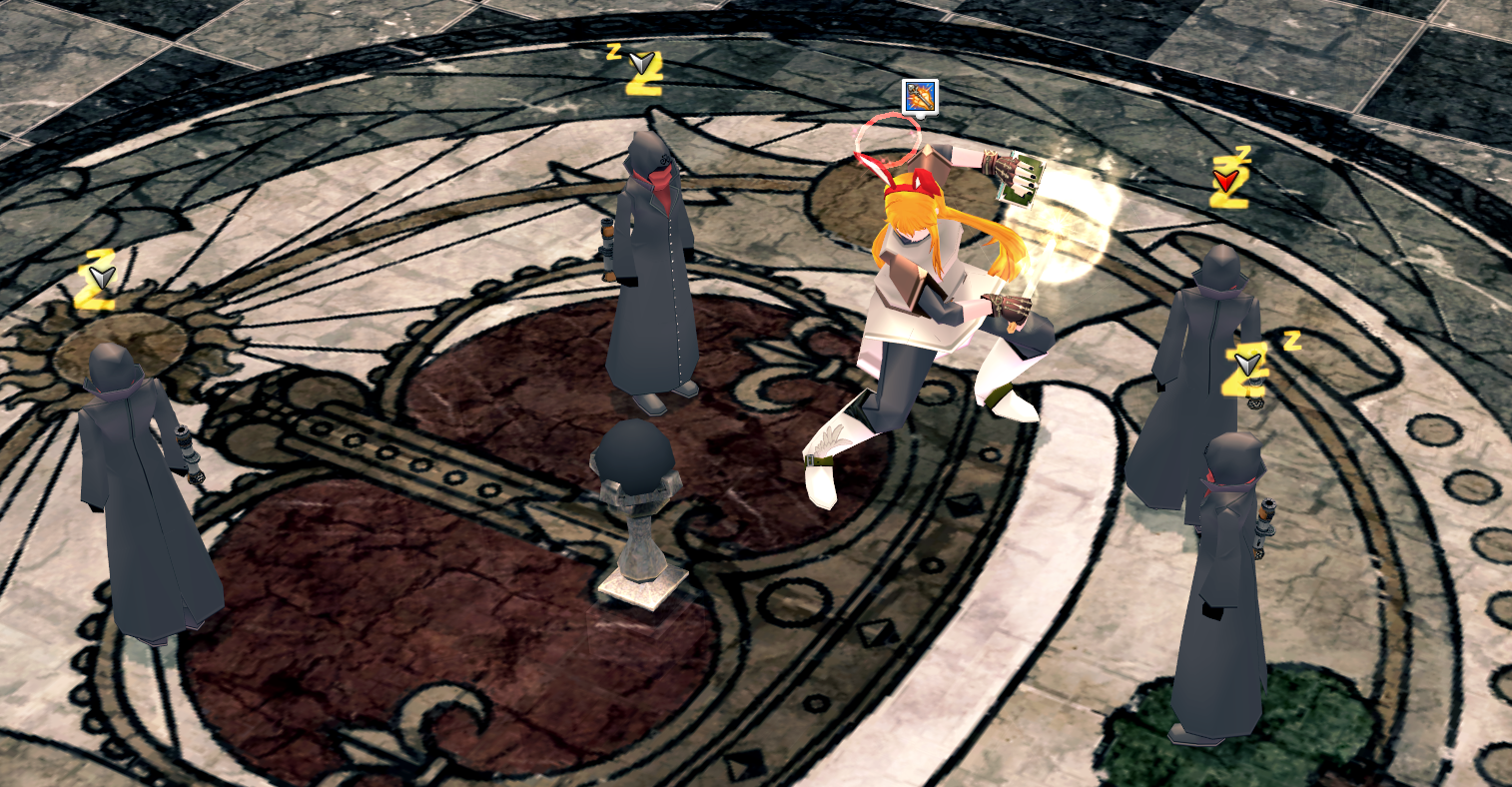 The user charges power at the tip of their Wand or Staff and then physically strikes the opponent, sending the enemy flying backwards a set distance before landing and causing a magic-based explosion capable of hitting other enemies nearby.
A Wand or Staff must be equipped to use this skill.

Wand upgrades that increase Magic Attack will increase the damage of Blaze.
Blaze does not take any Durability off of the Wand or Staff used.

Contrary to its name and appearance, Blaze is a Neutral Element, not a Fire Element.
Blaze consists of two hits: The initial melee strike and the magic explosion.

The melee strike is affected by the player's Strength stat and ignores Counterattack and Defense. It also triggers Melee Auto Defense but does not deal Splash Damage.

The melee attack has a damage multiplier of ×1.4~2.0, depending on how long Blaze was charged for.
The character is free to move and use other skills as soon as the initial melee strike lands.

The magic explosion is affected by Magic Defense and Magic Protection. The magic attack also has a multiplier of ×1~4.5, depending on how close the enemy is to being knocked down.

The maximum multiplier will be reached if the target has at least 35% of its Knockdown Gauge filled prior to being struck by Blaze.
If the target's Magic Auto Defense triggers, they will drop straight down instead of bouncing, allowing them to recover very quickly.
Enemies hit by the explosion are usually set to alert aggro status, depending on the AI.

Blaze receives the benefits of Support Shot and Rage Impact.

This is done by immediately attacking the target with either skill after Blaze's initial hit.

If one wishes for both bonuses to be applied, Rage Impact must be used first. Immediately after Rage Impact is used, Support Shot should be fired. There is very little time between the initial hit and the explosion, so timing is very important.

Holding down Blaze's skill hotkey will cause the skill to charge, increasing the initial hit and the explosion's damage.

Once fully charged, the screen will flash and the orb will cease to grow. Mana and Stamina will also cease to be drained.
The player must have a minimum of 1/2 of the maximum Mana and Stamina needed to fully charge in order to begin using Blaze.

To use Blaze against an enemy, either manually click the enemy while the hotkey is held down or release the Blaze hotkey.

The closest target within range of the skill will be marked by a red arrow over them. Other targets that are within range but are further away are marked by a gray arrow instead.
Releasing the hotkey will cause the player to use Blaze on the target marked with the red arrow.
Manually clicking an enemy within range will cause the player to use Blaze on the selected enemy.

This allows players to use Blaze against "sleeping" monsters, such as Mimics and Sulfur Golems.

In both cases, if there are no enemies in range or if the selected target is out of range, Blaze will cancel.
If the player attempts to blaze an untargetable enemy, the skill will go on cooldown with no effect.

Can be used during Assault Slash, Smash, Windmill's animation.
A target knocked down by Blaze cannot be targeted by Assault Slash.
Skill Issues
The skill will misfire and go into cooldown when the player is near the target.

This happens often when the player is not facing the target or the target and/or is displaced.
This also occurs when using Blaze on an enemy during invincible frames (i.e. the enemy was recently knocked down).
Summary
Rank
N
F
E
D
C
B
A
9
8
7
6
5
4
3
2
1
Required AP
-
4
6
8
11
14
17
21
25
29
33
38
43
48
53
60
Required AP (Total)
-
4
10
18
29
43
60
81
106
135
168
206
249
297
350
410
Additional Mana
-
+2
+5
Additional Mana (Total)
-
+2
+4
+6
+8
+10
+12
+14
+16
+18
+20
+22
+24
+26
+28
+33
Additional Int
-
+2
+5
Additional Int (Total)
-
+2
+4
+6
+8
+10
+12
+14
+16
+18
+20
+22
+24
+26
+28
+33
Additional Str
-
+1
+3
Additional Str (Total)
-
+1
+2
+3
+4
+7
Stamina Use [/sec]
?
2
3
4
5
6
Stamina Use (Maximum)
?
6
9
12
15
18
Mana Use [/sec]
7
12
14
16
18
20
22
Mana Use (Maximum)
20
36
42
48
54
60
66
Melee Damage Multiplier
1.4~2.0
Explosion Damage Multiplier
0.6
0.8
1.0
1.2
1.4
1.6
1.8
2.0
2.2
2.4
2.6
3.0
3.2
3.4
3.6
4.0
Explosion Knockdown Damage Bonus (%)
450
Spell Range
320
Knockback Distance
800
Explosion Radius
550
Load Time [sec]
0 ~ 1.5
Cooldown Time [sec]
4
Skill CP (Total)
120
140
160
180
200
220
240
260
280
300
330
360
400
450
500
550
Stat CP (Total)
0
1.4
2.8
4.2
5.6
7.0
8.4
9.8
11.2
12.6
14
16.4
18.8
21.2
23.6
30.1
Magic Talent EXP
0
?
?
?
?
?
?
16,800
20,000
23,200
?
?
?
?
?
?
Damage Calculation
As of the Enlightenment update, Blaze's base damage is based purely off the player's Magic Attack stat.
Damage is calculated as [25 * Seconds_Charged * Magic_Attack * Wand_Modifier * Magic_Mastery_Modifier * Blaze_Rank_Modifier * (1 + (3.5 * Knockdown Gauge Percentage))] / 64
Knockdown Gauge Percentage added from Blaze itself is not considered in the damage calculation.
Increased damage from Knockdown Gauge Percentage is calculated separately for each enemy hit by the blast.
Filling at least 35% of the knockdown gauge is required to maximize the explosion damage.
The maximum charge time for Blaze is 1.5 seconds.
Obtaining the Skill
Talk to Berched in Taillteann using the [Skills] Keyword to start the quest.
Learn Blaze
How to Get Quest

Talk to Berched about Skills with Rank C Combat Mastery and Rank C Magic Mastery

Briefing
The training will be difficult -Berched
Objectives
Rewards

25000 Experience Points

Learn Blaze

Additional Information

If you are currently undergoing a [Daily] Gathering quest for Corn or Firewood, you must complete or give up this daily quest first, or the harvesting will not count.
In step 4, Berched gives you Berched's Wand (which is essentially a Combat Wand with only 1 Durability). Use it until Durability reaches 0. A fast way to reduce the Wand's durability is to use a low-rank Healing spell on yourself, another player, or on Berched. Applying Holy Flame to the Wand helps speed up the process. When it is broken, talk to Berched to give him back the wand and get the next step.
You may bring a maxed out party for Coill Dungeon.

Note: The Dungeon has to be on Normal. Other instances of Coill (ie- Paladin Passive Defense, Elemental, etc.), will not count.
To "Clear Coill Dungeon" means to leave by using Goddess Statue after defeating the boss.
Training Method
"Try the skill while a powerful enemy is being knocked back." will count for monsters that are Strong-ranked or higher than the player.

For example, an awful ranked enemy will fulfill this condition.
This applies to "Try the skill while a very strong enemy is being knocked back." as well, working with boss ranked enemies.
Tips
To fulfil "try the skill while the enemy is being knocked back." you must use Blaze as a knockdown blow. The easiest way to do this is to use 2+Blaze; use two melee hits in quick succession followed by a very-low-charged Blaze. Another way to do this is to strike a monster which just been downed, forcing it down again.

In order for this to fulfil the training requirement, you must use a minimum charge Blaze (charge for .5 seconds) and time it so that it strikes the enemy as soon as your next melee hit would.
Generally, if Blaze is unleashed when the enemy's Knockdown Gauge is at about 90% or higher, the knockdown requirement will be met.
One could use Ice Spear and go to where the monster would be knocked back, charge Blaze at that position and fire after the explosion from Ice Spear occurs. However, this method would consume large amounts of Stamina and Mana due to charging Blaze.
Depending on your latency, you could also fulfil this by charging Lightning Bolt or Icebolt then standing right next to your target and using the bolt, then one melee attack, and charging blaze quickly.
Another strategy: Summon a pet. Set pet to rest about 10 metres from your target mob. Stand next to mob. Shift-click mob to make pet attack it. While your pet is approaching the mob, load blaze. Let pet hit mob twice then cancel pet with hotkey and immediately release blaze.

Assuming a willing teammate is available, they can use an assortment of skills or N+ combos to help with training knockdown requirements.

For example, the teammate may use Firebolt to knock enemies into you, Flame Burst to fill the knockdown gauge and give you time to move into position, or a ranged chain ending in Crash Shot for composite damage and training.
Novice Rank
Effects: Explosion Damage Modifier 0.6
| Method | Exp. | Count | Total |
| --- | --- | --- | --- |
| Use the skill. | 10.00 | 10 | 100.00 |
Rank F
AP: 4
Stat Improvement: Mana +2, Int +2
Effects: Explosion Damage Modifier 0.8
| Method | Exp. | Count | Total |
| --- | --- | --- | --- |
| Use the skill. | 10.00 | 6 | 60.00 |
| Win a fight against an enemy. | 10.00 | 6 | 60.00 |
Rank E
AP: 6
Stat Improvement: Mana +2, Int +2
Effects: Explosion Damage Modifier 1.0
| Method | Exp. | Count | Total |
| --- | --- | --- | --- |
| Use the skill. | 5.00 | 12 | 60.00 |
| Kill any monster. | 5.00 | 10 | 50.00 |
Rank D
AP: 8
Stat Improvement: Mana +2, Int +2
Effects: Explosion Damage Modifier 1.2
| Method | Exp. | Count | Total |
| --- | --- | --- | --- |
| Use the skill. | 4.00 | 15 | 60.00 |
| Defeat a similar ranked enemy. | 4.00 | 15 | 60.00 |
Rank C
AP: 11
Stat Improvement: Mana +2, Int +2
Effects: Explosion Damage Modifier 1.4
| Method | Exp. | Count | Total |
| --- | --- | --- | --- |
| Use the skill. | 3.00 | 20 | 60.00 |
| Defeat a similar ranked enemy. | 3.00 | 20 | 60.00 |
Rank B
AP: 14
Stat Improvement: Mana +2, Int +2
Effects: Explosion Damage Modifier 1.6
| Method | Exp. | Count | Total |
| --- | --- | --- | --- |
| Use the skill. | 2.00 | 20 | 40.00 |
| Defeat a similar ranked enemy. | 2.00 | 20 | 40.00 |
| Use the skill right before an enemy is knocked down. | 5.00 | 10 | 50.00 |
Rank A
AP: 17
Stat Improvement: Mana +2, Int +2
Effects: Explosion Damage Modifier 1.8
| Method | Exp. | Count | Total |
| --- | --- | --- | --- |
| Use the skill. | 1.00 | 40 | 40.00 |
| Defeat a similar ranked enemy. | 1.00 | 20 | 20.00 |
| Use the skill while the enemy is being knocked back. | 4.00 | 10 | 40.00 |
| Defeat a powerful enemy. | 10.00 | 2 | 20.00 |
Rank 9
AP: 21
Stat Improvement: Mana +2, Int +2
Effects: Explosion Damage Modifier 2.0
| Method | Exp. | Count | Total |
| --- | --- | --- | --- |
| Try the skill. | 1.00 | 40 | 40.00 |
| Defeat a similar ranked enemy. | 0.50 | 40 | 20.00 |
| Try the skill while the enemy is being knocked back. | 2.00 | 20 | 40.00 |
| Defeat a powerful enemy. | 5.00 | 3 | 15.00 |
Rank 8
AP: 25
Stat Improvement: Mana +2, Int +2
Effects: Explosion Damage Modifier 2.2
| Method | Exp. | Count | Total |
| --- | --- | --- | --- |
| Use the skill. | 0.50 | 80 | 40.00 |
| Defeat a similar ranked enemy. | 0.50 | 40 | 20.00 |
| Use the skill while the enemy is being knocked back. | 1.00 | 40 | 40.00 |
| Defeat a powerful enemy. | 3.00 | 5 | 15.00 |
Rank 7
AP: 29
Stat Improvement: Mana +2, Int +2
Effects: Explosion Damage Modifier 2.4
| Method | Exp. | Count | Total |
| --- | --- | --- | --- |
| Use the skill. | 0.30 | 100 | 30.00 |
| Defeat a similar ranked enemy. | 0.30 | 50 | 15.00 |
| Try the skill while a powerful enemy is being knocked back. | 2.00 | 20 | 40.00 |
| Defeat a powerful enemy. | 2.00 | 10 | 20.00 |
Rank 6
AP: 33
Stat Improvement: Mana +2, Int +2
Effects: Explosion Damage Modifier 2.6
| Method | Exp. | Count | Total |
| --- | --- | --- | --- |
| Use the skill. | 0.30 | 100 | 30.00 |
| Use the skill right before a powerful enemy is knocked down. | 1.00 | 20 | 20.00 |
| Defeat a powerful enemy. | 1.00 | 20 | 20.00 |
| Defeat a very powerful enemy. | 10.00 | 5 | 50.00 |
Rank 5
AP: 38
Stat Improvement: Mana +2, Int +2, STR +1
Effects: Explosion Damage Modifier 3.0
| Method | Exp. | Count | Total |
| --- | --- | --- | --- |
| Use the skill | 0.30 | 100 | 30.00 |
| Use the skill right before a powerful enemy is knocked down. | 0.70 | 30 | 21.00 |
| Defeat a powerful enemy. | 0.70 | 30 | 21.00 |
| Defeat a very powerful enemy. | 3.00 | 10 | 30.00 |
| Use the skill on a very powerful enemy after gathering your MP to the maximum level. | 2.00 | 10 | 20.00 |
Rank 4
AP: 43
Stat Improvement: Mana +2, Int +2, STR +1
Effects: Explosion Damage Modifier 3.2
| Method | Exp. | Count | Total |
| --- | --- | --- | --- |
| Use the skill. | 0.20 | 150 | 30.00 |
| Use the skill right before a powerful enemy is knocked down. | 0.50 | 40 | 20.00 |
| Defeat a powerful enemy. | 0.50 | 40 | 20.00 |
| Defeat a very powerful enemy. | 2.00 | 15 | 30.00 |
| Use the skill on a very powerful enemy after gathering your MP to the maximum level. | 1.00 | 20 | 20.00 |
Rank 3
AP: 48
Stat Improvement: Mana +2, Int +2, STR +1
Effects: Explosion Damage Modifier 3.4
| Method | Exp. | Count | Total |
| --- | --- | --- | --- |
| Try the skill. | 0.20 | 150 | 30.00 |
| Try the skill while a very strong enemy is being knocked back. | 3.00 | 10 | 30.00 |
| Kill a very strong monster. | 1.00 | 30 | 30.00 |
| Kill a boss level monster. | 10.00 | 2 | 20.00 |
| Fully charge and attack a boss level monster. | 5.00 | 4 | 20.00 |
Rank 2
AP: 53
Stat Improvement: Mana +2, Int +2, STR +1
Effects: Explosion Damage Modifier 3.6
| Method | Exp. | Count | Total |
| --- | --- | --- | --- |
| Try the skill. | 0.20 | 150 | 30.00 |
| Try the skill while a very strong enemy is being knocked back. | 1.00 | 20 | 20.00 |
| Kill a very strong monster. | 0.50 | 40 | 20.00 |
| Kill a boss level monster. | 5.00 | 10 | 50.00 |
Rank 1
AP: 60
Stat Improvement: Mana +5, Int +5, STR +3
Effects: Explosion Damage Modifier 4.0
| Method | Exp. | Count | Total |
| --- | --- | --- | --- |
| Try the skill. | 0.10 | 300 | 30.00 |
| Try the skill while a boss level enemy is being knocked back. | 1.00 | 100 | 100.00 |
| Kill a boss level monster. | 1.00 | 100 | 100.00 |
Master Title
the Master of Blaze
Related Enchants
Name
Type, Rank
Enchants Onto
Effect(s)
Comes On/From
Collector
Prefix, A
Gauntlets

When 

Blaze

is Rank 9 or higher Critical +5%

When 

Blaze

is Rank C or higher Intelligence +10

When 

Blaze

is Rank 7 or higher Max HP +12

Defense -2

Protection -1

Mana Hammer
Prefix, 3
Handgear

When 

Ice Spear

is Rank 9 or higher Magic Attack +1

When 

Blaze

is Rank 7 or higher Magic Attack +1~2

Pyromaniac
Prefix, 8
Fomor Weapons
Reasonable
Suffix, 3
Wands

When 

Blaze

is Rank 1 or higher Magic Attack +2~4

x2 Repair Cost

Sorcerer
Suffix, 6
Clothes, Armor
Trivia
References