Mabinogi World Wiki is brought to you by Coty C., 808idiotz, our other patrons, and contributors like you!!
Want to make the wiki better? Contribute towards getting larger projects done on our Patreon!
Magnum Shot
From Mabinogi World Wiki
Description
| | |
| --- | --- |
| | Carrying an immense punch in a single long-range shot - thus delivering great impact that the enemy can't handle - makes this Magnum Shot skill appealing. The enemy wounded by this attack will collapse before they can even approach you. Not only that, even if it only grazes the enemy, this powerful skill will topple the enemy's morale and make them tremble in fear even before starting the battle. If you have reached a point where you can control the tempo in your concentration and the power of your attack, practice delivering a great impact on your target with this skill. This is easier said than done, however. |
Details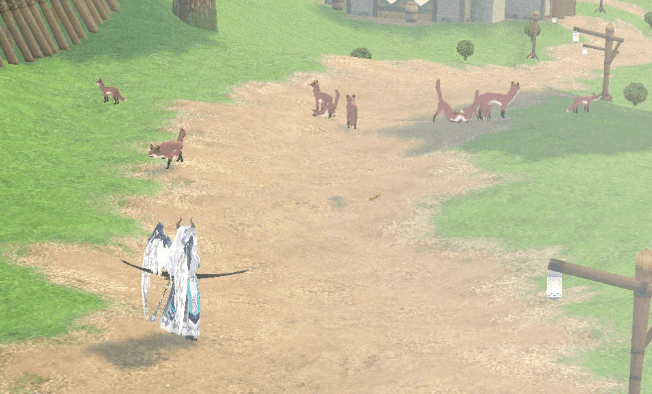 A long-range, single-hit powerful attack.
Magnum Shot will always knock the target down upon a successful hit.
Uses up one missile per shot.
Aiming speed is slower than that of normal Ranged Attack and does not increase from ranking Ranged Attack.
Weapon speed does not affect how quickly a player can fire Magnum Shot. However, it does affect how quickly the player can load Magnum Shot consecutively.
When used with a Bow, the user is slowed to a walk.

This does not apply to crossbows.

Elves can use Magnum Shot while Mounted, but the Mount will be slowed to a walking pace while the skill is active.

The slowdown can be avoided by setting a waypoint before loading Magnum Shot.

Starting from Rank 5, Magnum Shot can cause Splash Damage.

The splash radius can be compared to that of a Mace (at Rank 1, that of a Claymore) which affects all enemies, including sleeping Mimics, in a radial area.
The splash impact area is where the enemy was standing the moment you fired, even if the enemy runs around between the time of firing and the time of impact.
Enemies hit by splash will not immediately aggro, even if their AI allows them to. Instead, they will be alert (!). From there, if the enemy can multi-aggro, they will attack.

The player will temporarily be invincible right after firing Magnum Shot. However, this is an extremely brief moment.
As a Ranged ability, the effects are shunted by Natural Shield and the missile can be dodged by Evasion.
Giants cannot learn this skill.
See Shot of God (SoG), Standard Archery Tactics, Magnum-Counter, Magnum Mill, Magnum+Def+N, Magic Stun Magnum for strategies to use in battle.
Gallery
Summary
Rank
F
E
D
C
B
A
9
8
7
6
5
4
3
2
1
Dan 1
Dan 2
Dan 3
Required AP (Human)
1
4
5
7
9
10
12
20
21
22
23
30
7
10
15
Required AP (Total) (Human)
1
5
10
17
26
36
48
60
72
84
104
125
147
170
200
207
217
232
Required AP (Elf)
0
3
5
7
9
11
13
14
15
16
17
19
21
23
30
7
10
15
Required AP (Total) (Elf)
0
3
8
15
24
35
48
62
77
93
110
129
150
173
203
210
220
235
Additional Dex (Total)
-
+2
+4
+6
+8
+10
+12
+14
+16
+18
Damage [%]
220
240
250
260
270
280
330
340
350
360
430
450
470
490
530
520
540
560
Splash Damage [%]
-
10
20
Splash Distance
-
200
230
260
290
350
Stamina Use
4
5
6
8
9
10
Load Time [sec]
0
Cooldown Time [sec] (Human)
2.0
1.5
Cooldown Time [sec] (Elf)
1.0
0.5
Skill CP (Total)
5
10
30
50
70
90
110
130
150
170
200
230
260
290
320
350
380
410
Stat CP (Total)
-
0.2
0.4
0.6
0.8
1.0
1.2
1.4
1.6
1.8
Obtaining the Skill
Or,
Training Method
Novice Rank
| Method | Exp. | Count | Total |
| --- | --- | --- | --- |
| Learn from a person or a book. | 100.00 | 1 | 100.00 |
Rank F
AP: 1 Human / 0 Elf
Stat Improvement: none
Effects: Damage 220%
| Method | Exp. | Count | Total |
| --- | --- | --- | --- |
| Use the skill successfully. | 100.00 | 3 | 300.00 |
| Get a Critical Hit with Magnum Shot. | 100.00 | 1 | 100.00 |
| Use Magnum Shot as the final blow. | 100.00 | 1 | 100.00 |
| Get a Critical Hit as the final blow. | 100.00 | 1 | 100.00 |
Rank E
AP: 4 Human / 3 Elf
Stat Improvement: none
Effects: Damage 240%
| Method | Exp. | Count | Total |
| --- | --- | --- | --- |
| Use the skill successfully. | 100.00 | 3 | 300.00 |
| Get a Critical Hit with Magnum Shot. | 100.00 | 1 | 100.00 |
| Use Magnum Shot as the final blow. | 100.00 | 1 | 100.00 |
| Get a Critical Hit as the final blow. | 100.00 | 1 | 100.00 |
Rank D
AP: 5
Stat Improvement: none
Effects: Damage 250%
| Method | Exp. | Count | Total |
| --- | --- | --- | --- |
| Use the skill successfully. | 80.00 | 4 | 320.00 |
| Get a Critical Hit with Magnum Shot. | 100.00 | 1 | 100.00 |
| Use Magnum Shot as the final blow. | 100.00 | 1 | 100.00 |
| Get a Critical Hit as the final blow. | 100.00 | 1 | 100.00 |
Rank C
AP: 7
Stat Improvement: none
Effects: Damage 260%
| Method | Exp. | Count | Total |
| --- | --- | --- | --- |
| Use the skill successfully. | 40.00 | 7 | 280.00 |
| Get a Critical Hit with Magnum Shot. | 100.00 | 1 | 100.00 |
| Use Magnum Shot as the final blow. | 100.00 | 1 | 100.00 |
| Get a Critical Hit as the final blow. | 100.00 | 1 | 100.00 |
Rank B
AP: 9
Stat Improvement: none
Effects: Damage 270%
| Method | Exp. | Count | Total |
| --- | --- | --- | --- |
| Use the skill successfully. | 32.00 | 9 | 288.00 |
| Get a Critical Hit with Magnum Shot. | 100.00 | 2 | 200.00 |
| Use Magnum Shot as the final blow. | 100.00 | 1 | 100.00 |
| Get a Critical Hit as the final blow. | 100.00 | 1 | 100.00 |
Rank A
AP: 10 Human/ 11 Elf
Stat Improvement: none
Effects: Damage 280%
| Method | Exp. | Count | Total |
| --- | --- | --- | --- |
| Use the skill successfully. | 24.00 | 8 | 192.00 |
| Get a Critical Hit with Magnum Shot. | 100.00 | 4 | 400.00 |
| Use Magnum Shot as the final blow. | 100.00 | 1 | 100.00 |
| Get a Critical Hit as the final blow. | 100.00 | 1 | 100.00 |
Rank 9
AP: 12 Human/13 Elf
Stat Improvement: Dex +2
Effects: Damage 330%
| Method | Exp. | Count | Total |
| --- | --- | --- | --- |
| Use the skill successfully. | 20.00 | 10 | 200.00 |
| Get a Critical Hit with Magnum Shot. | 100.00 | 5 | 500.00 |
| Use Magnum Shot as the final blow. | 100.00 | 2 | 200.00 |
| Get a Critical Hit as the final blow. | 100.00 | 2 | 200.00 |
Rank 8
AP: 12 Human/14 Elf
Stat Improvement: Dex +2
Effects: Damage 340%
| Method | Exp. | Count | Total |
| --- | --- | --- | --- |
| Use the skill successfully. | 12.00 | 15 | 180.00 |
| Get a Critical Hit with Magnum Shot. | 80.00 | 10 | 800.00 |
| Use Magnum Shot as the final blow. | 100.00 | 3 | 300.00 |
| Get a Critical Hit as the final blow. | 100.00 | 2 | 200.00 |
Rank 7
AP: 12 Human/15 Elf
Stat Improvement: Dex +2
Effects: Damage 350%
| Method | Exp. | Count | Total |
| --- | --- | --- | --- |
| Use the skill successfully. | 8.00 | 25 | 200.00 |
| Get a Critical Hit with Magnum Shot. | 40.00 | 15 | 600.00 |
| Use Magnum Shot as the final blow. | 80.00 | 4 | 320.00 |
| Get a Critical Hit as the final blow. | 80.00 | 2 | 160.00 |
Rank 6
AP: 12 Human/16 Elf
Stat Improvement: Dex +2
Effects: Damage 360%
| Method | Exp. | Count | Total |
| --- | --- | --- | --- |
| Use the skill successfully. | 4.00 | 25 | 100.00 |
| Get a Critical Hit with Magnum Shot. | 32.00 | 25 | 875.00 |
| Use Magnum Shot as the final blow. | 60.00 | 5 | 300.00 |
| Get a Critical Hit as the final blow. | 80.00 | 2 | 160.00 |
Rank 5
AP: 20 Human/17 Elf
Stat Improvement: Dex +2
Effects: Damage 430% Splash damage 10%
| Method | Exp. | Count | Total |
| --- | --- | --- | --- |
| Use the skill successfully. | 3.20 | 50 | 160.00 |
| Get a Critical Hit with Magnum Shot. | 24.00 | 50 | 1200.00 |
| Use Magnum Shot as the final blow. | 40.00 | 15 | 600.00 |
| Get a Critical Hit as the final blow. | 66.00 | 6 | 396.00 |
Rank 4
AP: 21 Human/19 Elf
Stat Improvement: Dex +2
Effects: Damage 450% Splash damage 10%
| Method | Exp. | Count | Total |
| --- | --- | --- | --- |
| Use the skill successfully. | 2.40 | 58 | 139.20 |
| Get a Critical Hit with Magnum Shot. | 20.00 | 58 | 1160.00 |
| Use Magnum Shot as the final blow. | 32.00 | 19 | 608.00 |
| Get a Critical Hit as the final blow. | 66.00 | 6 | 396.00 |
Rank 3
AP: 22 Human/21 Elf
Stat Improvement: Dex +2
Effects: Damage 470% Splash damage 10%
| Method | Exp. | Count | Total |
| --- | --- | --- | --- |
| Use the skill successfully. | 2.00 | 58 | 116.00 |
| Get a Critical Hit with Magnum Shot. | 12.00 | 58 | 696.00 |
| Use Magnum Shot as the final blow. | 24.00 | 43 | 1032.00 |
| Get a Critical Hit as the final blow. | 40.00 | 8 | 320.00 |
Rank 2
AP: 23
Stat Improvement: Dex +2
Effects: Damage 490% Splash damage 10%
| Method | Exp. | Count | Total |
| --- | --- | --- | --- |
| Use the skill successfully. | 1.20 | 80 | 96.00 |
| Get a Critical Hit with Magnum Shot. | 8.00 | 80 | 640.00 |
| Use Magnum Shot as the final blow. | 20.00 | 50 | 1000.00 |
| Get a Critical Hit as the final blow. | 30.00 | 10 | 300.00 |
Rank 1
AP: 30
Stat Improvement: Dex +2
Effects: Damage 530% Splash damage 20%
| Method | Exp. | Count | Total |
| --- | --- | --- | --- |
| Use the skill successfully. | 1.00 | 75 | 75.00 |
| Get a Critical Hit with Magnum Shot. | 5.00 | 75 | 375.00 |
| Use Magnum Shot as the final blow. | 5.00 | 38 | 190.00 |
| Get a Critical Hit as the final blow. | 20.00 | 8 | 160.00 |
Master Title
the Master of Magnum Shot
HP +20

Dex +20

Luck +20

Protection -10

Str -10

Will -10
Related Enchants
Name
Type, Rank
Enchants Onto
Effect(s)
Comes On/From
Bowman's
Suffix, A
Handgear

Max HP -5

Ghoul
Suffix, 8
Bows, Crossbows

When 

Smash

is Rank 9 or higher Defense -10

Interlocking
Prefix, 4
Bows, Crossbows

Dexterity +30

Defense -4

x4 Repair Cost

Knocking
Prefix, 5
Light Armor

Defense +3

Max Stamina -60

x3 Repair Cost

Last Breath
Suffix, 3
Bow of Ruination

When 

Crash Shot

is Rank 3 or higher Piercing Level +1

x10 Repair Cost

Marksman
Suffix, 6
Bows and Crossbows
Poison Hunter's
Suffix, A
All

If Elf or Elf-allied Max Stamina +6~9

When 

Magnum Shot

is Rank 8 or higher Poison Immunity +1~3

Max MP -5

Poison Sniper's
Suffix, C
Magical Clothing

When 

Level

is 20 or higher Dexterity +1~6

Poison Immunity +1~4

Robin Hood
Prefix, 1
Bows, Crossbows

Defense -5

x2 Repair Cost

Reward for obtaining Dan 3 in all Combat skills

Shelter
Suffix, 6
Bows, Crossbows

While barrier spikes are installed Max Damage +13

+50% Repair Cost

Snowfall
Prefix, 8
Bows, Crossbows

When 

Level

is 30 or higher Critical +10%

When 

Windmill

is Rank 6 or higher Min Damage +4

Luck -20

+12% Repair Cost

Target
Suffix, 5
Headgear

When 

Crash Shot

is Rank 1 or higher Dexterity +30~40

x2 Repair Cost