Mabinogi World Wiki is brought to you by Coty C., 808idiotz, our other patrons, and contributors like you!!
Want to make the wiki better? Contribute towards getting larger projects done on our Patreon!
Iria: Episode 8 - Holy Land: The Sacrifice
From Mabinogi World Wiki
The Saga: Iria

< Iria: Side Story: NPC Commentary Iria: Episode 9 - Fate's Design: The Stand >
This article contains spoilers.
If you do not wish to read further, please return to the home page.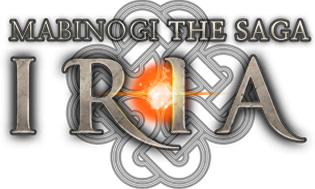 To start Episode 8, open the Chapter Info menu, select the "Chapter 5 The Saga" tab, click the Watch button, and select "EP 8 - Holy Land: The Sacrifice" under "Iria".
You may not play other episodes while playing Episode 8.
Replaying Episode 8 costs 5,000 Gold.
Warning: Choosing to stop the Episode at any point will erase all progress.
You can not skip the cutscenes on your first playthrough of the Episode.
Iria: Episode 8 - Holy Land: The Sacrifice is the eighth episode of The Saga: Iria. Akule plans a course of action against the Cessair, whose base of operations are located at Renes. Tarlach and Ruairi's motives before the start of the Saga are revealed.
The
Shadow Mission
difficulty is
based on your total level
:
Beginner for 1~99 total
Intermediate for 100~299 total
Advanced for 300~999 total
Hard for 1000+ total

NPCs involved in Holy Land: The Sacrifice
NPCs involved in Episode 8 - Holy Land: The Sacrifice
Trail of the Demon
Name
Trail of the Demon
NPC
Akule
Shamala
Information

To start the episode, open the Saga menu, select the "Iria" tab, select "EP 8 - Holy Land: The Sacrifice", and watch the Episode 8 cinematic.

Instruction

Talk to Akule located at the Connous Oasis.
A cutscene will occur after completing the previous step.
Talk to Akule.
Deliver 3 Emerald Cores to Shamala located near the entrance of Hillwen Mine.

Emerald Cores are dropped by the monsters inside Hillwen Mine.

Deliver 10 Mutant Rabbit Feet to Shamala located near the entrance of Shyllien Nature Reserve.

Mutant Rabbit Feet are dropped by Mutant Rabbits inside Shyllien Nature Reserve.

Talk to Shamala.
A cutscene will occur after completing the previous step.
Complete the quest. [8,000 EXP]
Premeditated Possession
Preparing for War
Name
Preparing for War
NPC
Akule
Information
Instruction

Talk to Akule located at the Connous Oasis.
A cutscene will occur after completing the previous step.
Complete the quest [8,000 EXP]
Recruiting Reinforcements
Name
Recruiting Reinforcements
NPC
Castanea
Krug
Eirawen
Admiral Owen
Information
Instruction

Talk to Eirawen located inside the Throne Room in Rath Royal Castle.
Talk to Admiral Owen located at the Fleet Commander's Official Residence in the Commonwealth of Belvast.

You will be taken into the RP Shadow Mission, "Break Every Seal".

You will role-play as Tarlach. He has 1,226 Health, 1,388 Mana, 999 Stamina, 634 Strength, 838 Intelligence, 544 Dexterity, 645 Will, 500 Luck, 317~473 Damage, 165 Magic Attack, 58~100% Injury, 176.5% Critical, 80% Balance, 134 Defense, 90 Protection, 63 Magic Defense, 41 Magic Protection, and 35 Armor Pierce, as well as Rank 1 Defense, Smash, Counterattack, Windmill, Final Hit, Combat Mastery, Critical Hit, Sword Mastery, Meditation, Healing, Magic Mastery, Bolt Mastery, Lightning Bolt, Lightning Mastery, Thunder, Shockwave, Firebolt, Fireball, Icebolt, and Mana Shield, and Rank Novice Chain Casting (Monster). He also has a Movement Speed 40% Boost Potion (10 min), 40 HP 100 Potions, and 40 MP 100 Potions in his inventory.
This mission is split into three parts:

Defeat two Shaman Warriors, two Shaman Fighters, and two Shaman Mages, then destroy the Guardian Pillar.
Enter the portal to the Whirlpool Mark and defeat four Ancient Shaman's Ghosts, then destroy the Guardian Pillar.
Enter the portal to the Human Landmark and defeat three more Shaman Warriors, three more Shaman Mages, and two more Ancient Shaman's Ghosts before destroying the Guardian Pillar.
Finally, click the last portal to complete the mission, then manually leave the mission.

Make sure to disable the Mini Effects from the Options Dialog or the portals may not appear.
A trick to clearing the second and third waves is to launch a Fireball at the Guardian Pillar, then approach it to spawn the enemies.
Loading Fireball before entering the first portal and then clicking the portal multiple times will cause strange things to happen with varying effects, noted by the notification saying that you cannot teleport while unconscious.

Possible effects may include going from the first area straight to the Human Landmark. If this happens the Guardian Pillar will not spawn and you will have to redo the mission.
Another effect may include outright clearing the entire mission.

Complete the quest [8,000 EXP]
Renes Infiltration
The Saga: Iria

< Iria: Side Story: NPC Commentary Iria: Episode 9 - Fate's Design: The Stand >
Story Contents
Main Storyline

Sidequests

Chapter 1
Chapter 3
Chapter 4
Chapter 5
Chapter 6
Chapter 7
Chapter 8

Removed Story Contents