Mabinogi World Wiki is brought to you by Coty C., 808idiotz, our other patrons, and contributors like you!!
Want to make the wiki better? Contribute towards getting larger projects done on our Patreon!
Tara
From Mabinogi World Wiki
For the Shadow Realm counterpart, see Tara (Shadow).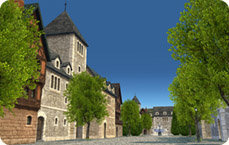 Description
| | |
| --- | --- |
| | Tara is the Capital of the Aliech Kingdom of Uladh. It is also the biggest town in Uladh. The bell rings at 5:30am to signal the start of the day. |
Similar to Taillteann, the town has quest boards that give out Shadow Missions but in two versions: Tara Shadow Missions and Tara Rath Castle Shadow Missions.
Tara also serves as a gate to Rath Royal Castle.
Tara can be accessed from Blago Prairie in the south-east or Corrib Valley from the north.
The Fashion Contest, Jousting, Royal Castle Banquet, and Tara Charity Donations also occur here. There is also a Confessional in the Pontiff's Court.
Map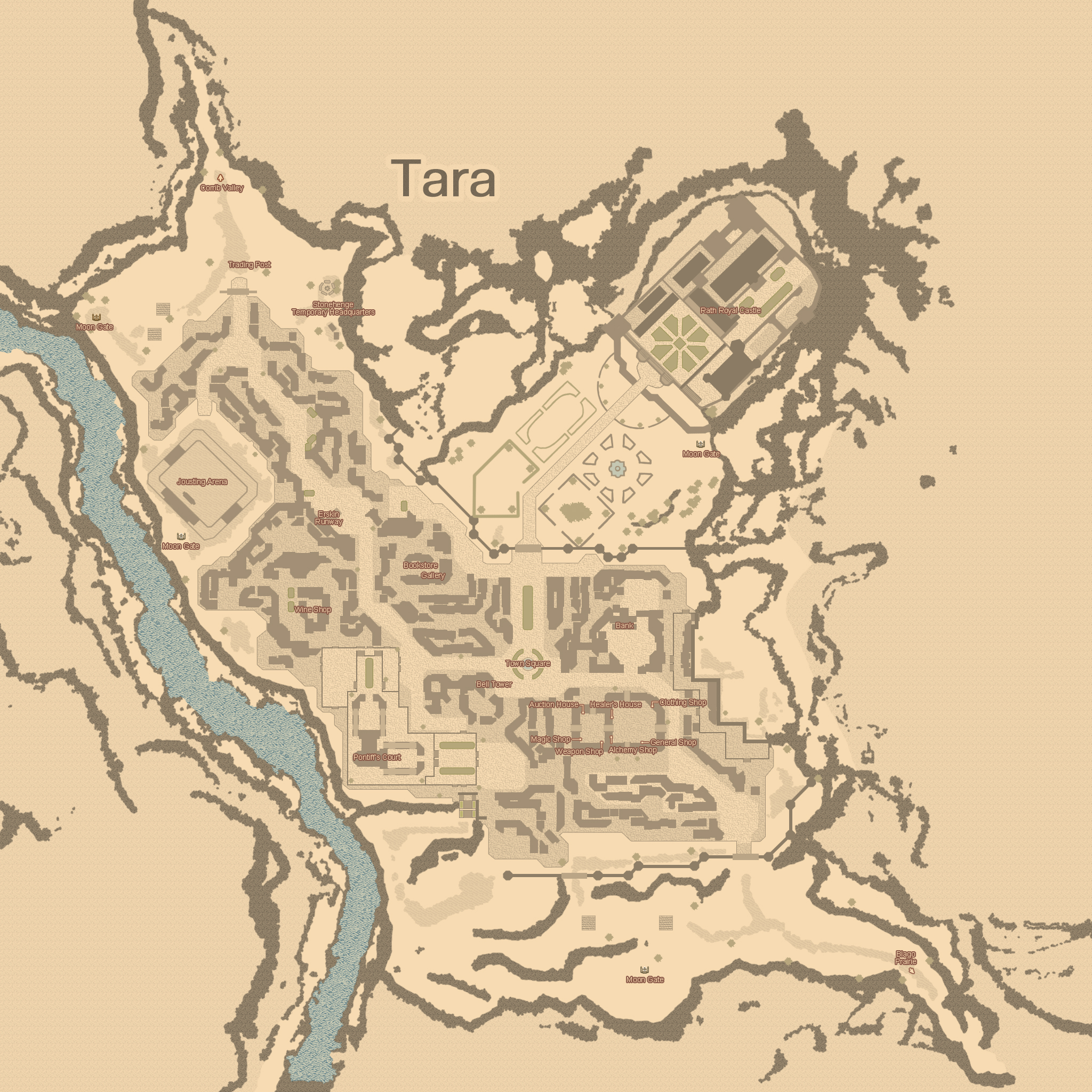 Pontiff's Court
Local NPCs
NPC
Occupation
Location

Cliona
Auction House Manager
Tara Emporium

Colm
Weapons Shop Owner
Tara Emporium

Corentin
Priestess
Pontiff's Court

Eluned
Countess, Manager of the Tara Emporium, Clothing Shop owner
Tara Emporium

Finola
Magic Shop Owner
Tara Emporium

Hans
Artist
Tara Town Square

Heledd
Alchemy Shop Owner
Tara Emporium

Ilsa
General Store Manager
Tara Emporium

Keith
Banker
Erskin Headquarters in Tara

Lezarro
Minister of the Royal Palace and Lost+Found
Front of the Royal Palace gate

Lileas
Jousting Arena Manager and Cook
Jousting Arena

Nessa
Healer
Tara Emporium

Padan
Praetorian
Shadow Gate in Tara

Pencast
Cardinal
Pontiff's Court

Adair
Jouster
Inside Jousting Arena

Gornevez
Jouster
Inside Jousting Arena

Lota
Jouster
Inside Jousting Arena

Melor
Jouster
Inside Jousting Arena

Tara Guard Merchant
Weapons Shop Merchant
Near the Shadow Gate in Tara

Hooliger
Drummer
Jousting Arena
x80px
Cheering Squads
Drummer
Jousting Arena
Local Crops
Local Animals
Gift
If one gives a certain Small Gems to Yellow-breasted Bunting, Pigeon, or Water Crow, they will give the player a random item. See Bird Gifts for a complete list.
Local Monsters
Trivia
The Bookstore, Gallery, and Wine Shop, which are all marked on Tara's minimap, currently have no purpose.
Tara's emblem is engraved on all Moon Gate and Mana Tunnel poles.
According to Pencast, the Rath Royal castle was built by the Neveds, with the Fomorians having a hand into its underground waterways.
The Royal Society Coin bears Tara's blason on it.
Many aristocratic families reside in Tara, some of which have been made known to players.

The Erskin family, mainly known for its associated Banking services, consists of Keith and his cousin Eluned.

In addition to the Banks, Erskin is also associated with the Fashion Contest Runway and the Erskin Emporium Shopping Center.

The Cinnsealach family consists of Llywelyn, Melwyn, and their parents.
The Deas family consists of Cowenna, her older sister, her older brother, and her parents.
Gallery
Emporium
Art Gallery