Mabinogi World Wiki is brought to you by Coty C., 808idiotz, our other patrons, and contributors like you!!
Want to make the wiki better? Contribute towards getting larger projects done on our Patreon!
Tara
From Mabinogi World Wiki
For the Shadow Realm counterpart, see Tara (Shadow).
Description and Geography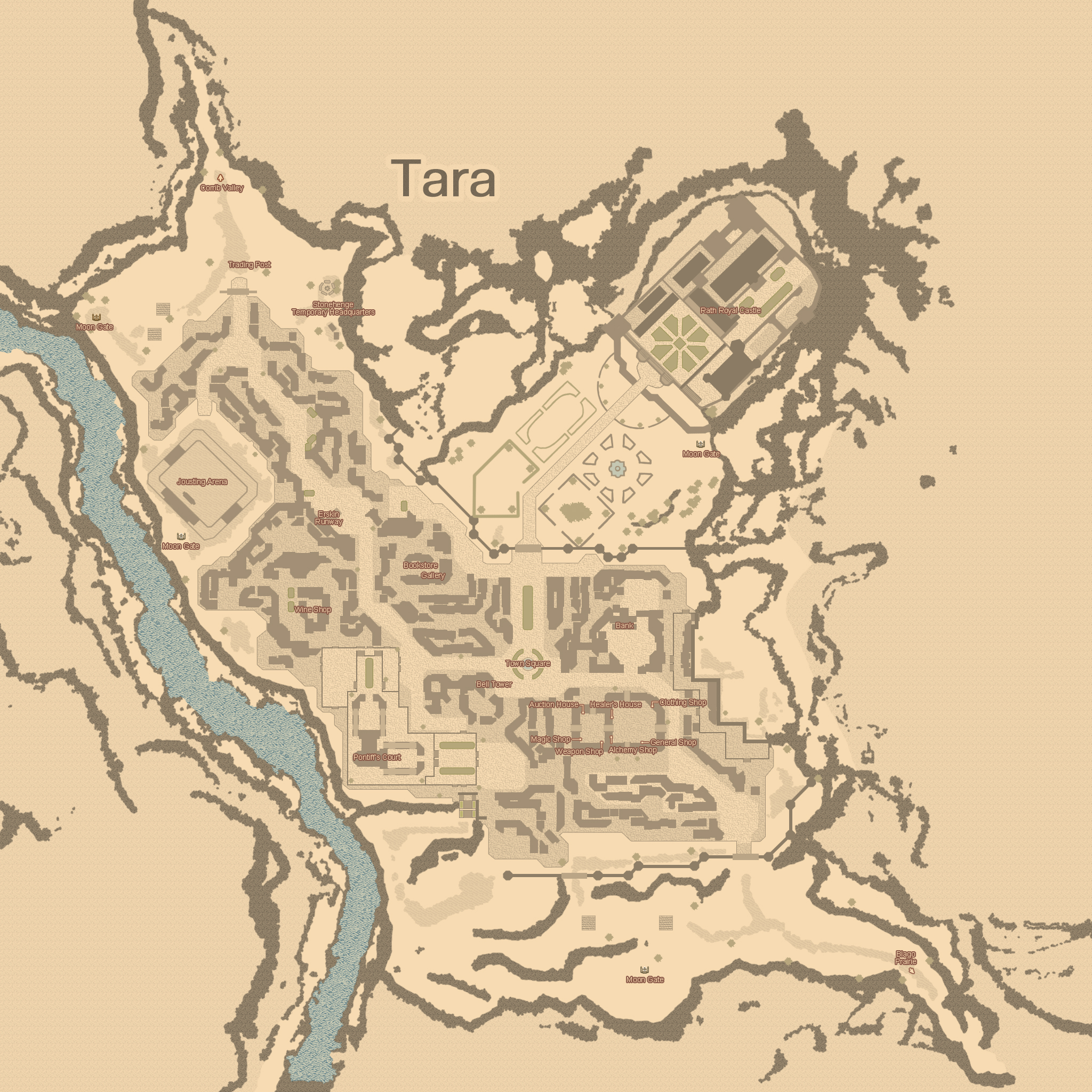 | | |
| --- | --- |
| | Tara is the Capital of the Aliech Kingdom of Uladh. It is also the biggest town in Uladh. The bell rings at 5:30am to signal the start of the day. |
Similar to Taillteann, the town has quest boards that give out Shadow Missions but in two versions: Tara Shadow Missions and Tara Rath Castle Shadow Missions.
Tara houses within its city walls the Rath Royal Castle, where the Royal Castle Banquet occurs every Samhain.
Despite there being no proper grocery store, Lileas also stocks ingredients in her shop.
Landmarks
History
There used to be a Bookstore in the Erskin Emporium, manned by Buchanan. However, he closed up shop and the bookstore has been left vacant for a long time now.
Areas of interest
Resources
Other
Resource
Obtained From
Location
Large Nail
Small Gem
Colored Small Gems
Hitting man-made objects
Amenities
Facilities
Alchemy Shop
Auction House
Bank
Weapon Shop
General Shop
Church
Grocery Store
Healer's House
Magic Shop
Receivable Quest Board (Stonehenge Headquarters, Town Square)
Shadow Mission Bulletin (Stonehenge Headquarters)
Housing Board (Town Square)
Trading Post
Monsters
If one gives a certain Small Gems to Yellow-breasted Bunting, Pigeon, or Water Crow, they will give the player a random item. See Bird Gifts for a complete list.
Areas Connected
Music
*This track was used in the Alpha build of the game, in a location that later became Dugald Aisle.
Local NPCs
Trivia
Tara's map used to include both Rath Royal Castle and the city itself.
Tara used to have more greenery.

These were split and toned down due to concerns about the map's size causing lag on entry.

The Bookstore, Gallery, and Wine Shop, which are all marked on Tara's minimap, currently have no purpose.
The pear trees in the southern plains do not drop anything, and might have been cut content, as pears do not exist in the game.
Tara's emblem is engraved on all Moon Gate and Mana Tunnel poles.
According to Pencast, the Rath Royal castle was built by the Neveds, with the Fomorians having a hand into its underground waterways.
The Royal Society Coin bears Tara's blason on it.
Many aristocratic families reside in Tara, some of which have been made known to players.

The Erskin family, mainly known for its associated Banking services, consists of Keith and his cousin Eluned.

In addition to the Banks, Erskin is also associated with the Fashion Contest Runway and the Erskin Emporium Shopping Center.

The Cinnsealach family consists of Llywelyn, Melwyn, and their parents.
The Deas family consists of Cowenna, her older sister, her older brother, and her parents.
Gallery
Paintings
References
Game Locations

Erinn

Another World
Inter-World Areas
Outer World Areas
Event-only locations