Mabinogi World Wiki is brought to you by Coty C., 808idiotz, our other patrons, and contributors like you!!
Want to make the wiki better? Contribute towards getting larger projects done on our Patreon!
Dugald Aisle
Jump to navigation
Jump to search
Description and Geography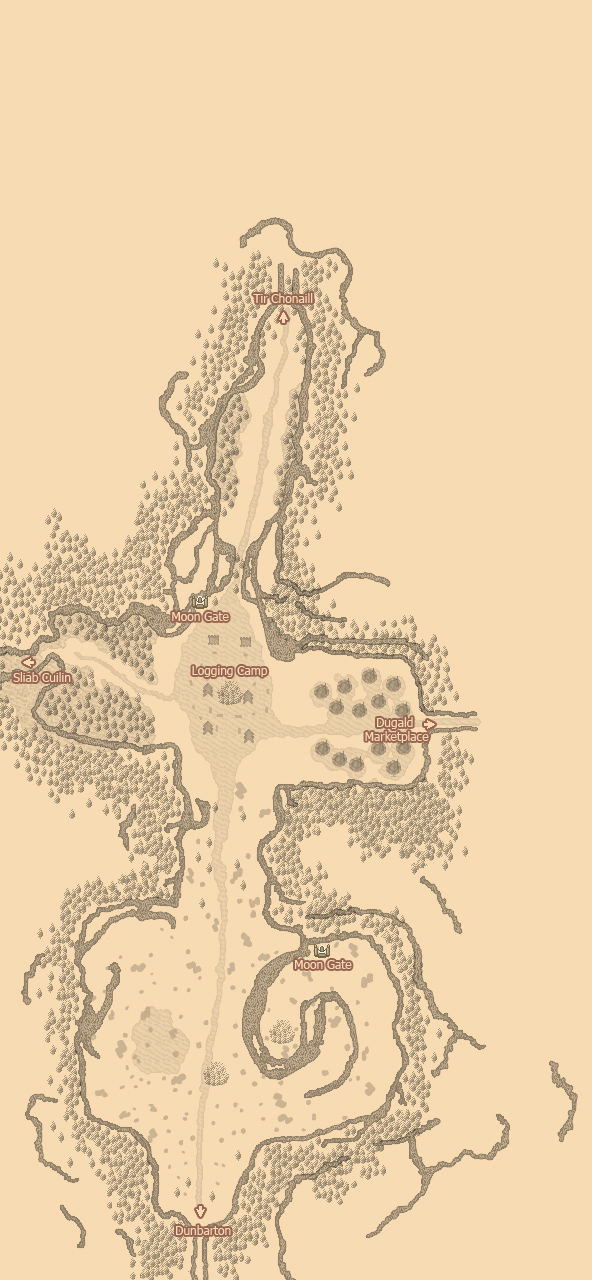 The Dugald Aisle, a rocky mountainous route leading into Dunbarton, was forged centuries ago by merchants looking to trade goods in the city. Known to be populated by abundant wildlife, Dugald Aisle was once a prospective town.[1]
Dugald Aisle is a mountainous passageway connecting Tir Chonaill and Dunbarton. Logging and forestry allowed for a popular though short-lived demand for construction of a functioning settlement in the area. Local fauna include Foxes and Raccoons in the lumber camp in the center of the aisle. As well, many Bears, Wisps, and other animals dwell in the forests to the west. In the plain to the south-southwest reside Wolves. At night, various Mushrooms grow abundantly in the forest west of the camp.
Landmarks
Ulaid Forest, to the west, is the main area where the logging camp gets its wood from.
Ulaid huts site, located at the east, is a more historical site with old ruins.
Spiral Hill, named for its twisted path, is located at the southeast.
Areas of interest
Resources
*Only 2 Gold mushrooms spawn per channel.
Amenities
Facilities
Local NPCs
Monsters
Music
Areas Connected
Trivia
Given its close proximity to Tir Chonaill, it is likely that Dugald Aisle is meant to represent the real-world town and county Donegal.

Donegal comes from dún (meaning fort) and gall (meaning foreigner). Dún na nGall together means fort of the foreigners.
That said, Dugald itself is a variant of the name Dubhgall; it is a combination of the words dubh (meaning black, black-haired, evil, or dark) and gall (meaning foreigner).

During Generation 8, Pierrick was seen wandering around Dugald Aisle at certain times of the day.
To the south, the stones you pass by may be mined with a pickaxe to gather Castle Masonry. They were once used to build a guild castle in Dugald Residential Town, Sen Mag Residential Town, Abb Neagh Residential Town, and Cuilin Residential Town.
Gallery
References
Game Locations

Erinn

Another World
Inter-World Areas
Outer World Areas
Event-only locations