Mabinogi World Wiki is brought to you by Coty C., 808idiotz, our other patrons, and contributors like you!!
Want to make the wiki better? Contribute towards getting larger projects done on our Patreon!
User:Lint
From Mabinogi World Wiki
User Guides
Dul Brau Dairam Shanon: Dul breá (going perfectly) d'agair mé (I pleaded) Shannon (the river Shannon)?.
Talvish: there are the names Thàmhais and Tavish (Scottish, sometimes Irish) forms of Thomas but Thomas is a bit weird of a name for Talvish since it means "Twin" (it does come from one of Jesus' Disciples though) it could be something like toil 'bhith in Scots Gaelic, toil bheith in Irish (will/wish to be)
TODO: Fragment Guide. Notes: Professional Silk Weaving Gloves can fragment into twice as many Fine Fabrics, and Mandrake potions with grandmaster can fragment into twice as many mandrakes.

RE Potions are Four Leaf Clover "Mandrake Potions" for the same reason.
Ethna's Jasper addiction can lead to many Finest Leathers and Synthesizing three gems can lead to Finest Fabrics reliably. Giant Scathach Spiders drop Fine Silk commonly and Finest Silk on occasion. Finest Silk also can be fragmented from Selina Sexy Bare Look and Becky Witch Dress.

Master Synth Guide, assuming infinite money:
Good Places for Phantasmal Remnants:
Guard Cylinder Tests: Gains Piercing, Sword of Elsinore visual flame, BUT no Poison, no Tethra effect
Partner Mounts ignore aggro, and can be used to gather Emerald Cores.

Also, the engineering rack in Saga 5 can be used alongside Rain Casting.

Blossoming Cage = Branches drop often from Shadow Lancers in Basic Missions/Iron Bars?
Pie Crust is common enough reward by gifting Glutton Monkeys store-bought chocolate milk from Wanst.
The Sneaky in Counterattack will often spawn in one of the first rooms, including the squire's; check all squire rooms.
Helpful Things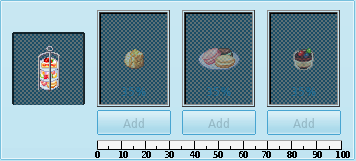 Combat_Power/Calculator

This should be updated because it's very useful.
Skill CP is currently 750, though once magic is maxed it will be 1025. Reminder that Thunder is a terrible skill.

Template:Delete
Template:NPC Page
How to Write Comments <!-- Like This -->
Use this to make floating elements not leak downwards <div style="clear:both;"></div>
Nanum Gothic (Bold) should be the font used by Mabinogi.
To Do
Sold by:          Template
Usable in:        North
Limit:            10,000,000
Sales Fee:        1%
Exchange Fee:     1%
Price:            10000
Note:             Direct Bank Transaction enabled

To Do Baltane
Walk
Masquerade
Library
Dai

Steamed Shark Fin
Run Away
Mana Herb Garlic Steak
(Seem to think the food is Okay) Spaghetti alle Vongole +11
(Seem to like the food) Chicken Wings +14

Get Angry
(Not) Lively Looking Guest
(Seems to Like Quite a Bit) Guest with sharp eyes +13
(Seems to Like Quite a Bit) Guest with Bronzed Tan +10
(Seems to Like Quite a Bit) Black-haired Guest +13

(Seems to be Pleased) A Giant's Expedition to the Zardine Volcanic Region +13
(Seems to be Pleased) Brifine Carp Book
(Seems to be Pleased) Behold the Dungeon
(Seems to be Pleased) Fire Arrow, the Ultimate Archery +13
(Seems to be Pleased) Master Chef +13
(Seems to be Pleased) Legend of the Giant Bird +14
(Seems alright) There's Something about the Cheese Bread she Makes +10
(Seems alright) Draw a Bow +10
(Seems alright) Glewyas Mythril Chef Recipe Book +11
(Doesn't Seem to be Pleased) Seal Stone Research Almanac: Ciar Dungeon

Kanna

Croque Monsieur
Gateau Au Chocolat

Kind looking guest
Short haired guest
Friendly looking guest

Logan

Squire
(Seems to be thinking deeply) Run Away +10
(Is okay) Spaghetti Aglio e Olio

Guest with Sad Eyes
(Seems to like quite a bit) Light Brown Hair

???